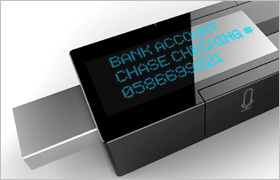 Password management is a pain. But thanks to a new biometric password flash drive on Kickstarter, remembering passwords might be a thing of the past.
After unlocking the device with your fingerprint, speak the key to reveal the corresponding password on the display.
That alone is pretty cool but the Bluetooth technology also allows the device to pair your smartphone, tablet, or computer wirelessly, allowing it to autofill your credentials for any site you wish. It can also automatically generate unique passwords for further protection all of which you can manage from the web app.
And if your device is ever lost or stolen and there are multiple attempts to access the information, myIDkey will automatically erase everything so you're still protected. Just restore it on a new device from the backed up version on the cloud – as long as you've set it up that way.
$79 or more will get you one of these secure USB devices. Estimated delivery is September 2013.
The project has already met it's target but a new stretch goal of $250,000 will increase the size from 2GB to 8GB.
Visit MyIDkey Kickstarter page