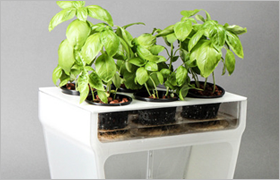 If you like the idea of growing your own food at home, this small home aquaponics kit might be a great place to start.
The small minimal design allows the process to become accessible especially for kids, so they can learn about this simple and sustainable style of producing food.
Created as a closed-loop ecosystem, it uses the fish waste to naturally fertilize the plants above and the water that has been filtered by the plant roots returns to the fish tank. The kit contains everything you need to start including the air pump, 5 pots, organic seeds and fish food.
This wasn't the first project by the Back To The Roots team – their Grow-Your-Own Mushroom Garden, where you can grow over one pound of oyster mushrooms from recycled coffee grounds right in your kitchen was a big success.
The aquaponics kit was sucessfully funded through Kickstarter and is now available at the Back To The Roots website for $60.