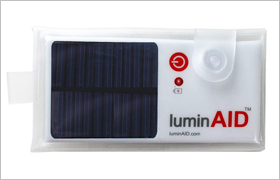 The LuminAID is an inflatable lamp that packs flat and inflates to create a lightweight, waterproof lantern. Perfect to take along on your next adventure, or tuck it away in your portable emergency kit.
When I first saw this light, I thought back to when I was a kid at summer camp and how this light would be perfect at night running from cabin to cabin or up the hill to the campfire. It's safe, sustainable, and portable. It provides up to eight hours of LED light, and needs about 5 hours of sunlight to fully charge which will last 4 months if unused.
It's a great light for outdoor recreational use, but also ideal for disaster relief or other emergency situations. The people behind the project want to make light more affordable, sustainable, and available for everyone.
If you purchase the Give a Light, Get a Light option – not only do you receive this awesome light but 1 LuminAID Solar Light is donated and distributed to someone who will greatly benefit from a safe, rechargeable light source.
Visit the LuminAID site now.