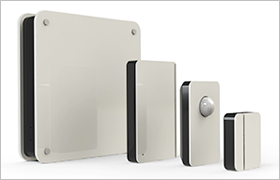 If you are looking for a home security system that is cheap, scalable and portable you may want to check out this new system from Scout.
Purchase as many units as you need to create a customized system that will meet your needs and then monitor your space for free via Wi-Fi.
Each system comes with a base – which will plug into your router. After setting up the base, complete the setup by placing the motion sensors and open/close sensors wherever you want to. You can then respond to an alert or notification by any number of options you set up – like turning on the lights. It also has a 3G chip so you also have the option of paying for professional monitoring if you want.
People think home security is a luxury purchase. Scout is here to change that.
A control panel can be installed where you want to be able to arm or disarm your system. You can easily arm or disarm your system using your smartphone, so this panel is only necessary when you don't have your phone. It utilizes RFID reader technology (read: no keycodes or buttons). You can pre-order a set now from $120.
Visit the Scout site.