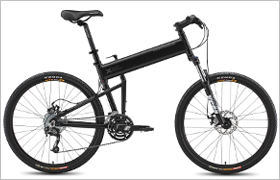 Tough, rugged, and ready for anything, this hardcore mountain bike is designed to be dropped from the sky to land prepared for action. It's patented folding system takes about 20 seconds to either set up, or fold away.
What I really like about this bike is that it's patented folding system gives the rider an advantage of additional mobility whether you want to pass some difficult terrain by foot, or if you want the benefit of being able to throw your bike in the trunk of you car.
Just like the original Paratrooper, the Paratrooper Pro is known for its durability and load bearing capabilities. It's frame is solid – really solid. You won't even realize you're riding a folding bike.
If you looking for a folding bike that can handle some serious off-road terrain, the Montague Paratrooper Pro is definitely worth checking out.
Visit the Montague website.