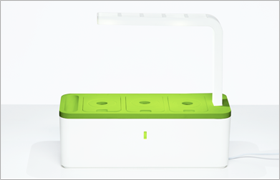 If you live in an urban area and want a simple way to grow herbs in your kitchen, just plug in this smart garden and add water. With improved technology, this 2nd gen device from Click & Grow will require virtually no effort.
The team, inspired by NASA set out to find a way to grow plants without watering or fertilizing. The technology behind it is whats in the soil – it's a nanotech material engineered to supply plant roots with the right amount of oxygen, water and nutrients at any time.
Each Smart Herb Garden comes with cartridges for basil, thyme and lemon balm. Refill cartridges ($5 – $10) will be available for chili pepper, mini tomato, peppermint, spinach, salad rocket and various kinds of lettuce.
Unused, the cartridges will last a couple of years. The team is also looking into selling 'pro' cartridge for users who want to sow their own seeds.
It also only uses 6 watts of energy, so running it all year will cost you about 4 or 5 dollars.
Although not 'certified' organic, there are no pesticides, fungicides, insecticides, plant hormones or any other suspicious substances used.
Visit the Smart Herb Garden Kickstarter page.
Or check out Click & Grow's website.