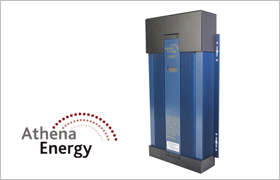 The EnergyBridge is a hybrid inverter that will take in solar power to reduce your dependency on the grid, and it will store backup power for when the grid fails.
If you have ever wanted to get into solar power to reduce your electricity bill, the EnergyBridge just might be for you. Your first step will be to install the solar panels and bring those wires into your home. Once setup the EnergyBridge will then work on it's own – as long as the sun is shining, it will supply power to your home offsetting your power bill.
When the power goes out, it switches over automatically and will begin to power your critical appliances from the batteries. The sun will recharge your batteries the next day providing a continuous source of power.
The team is running this Kickstarter campaign to help with the certification process, which can be challenging.
There are several pledge levels including, the stand alone EnergyBridge, or everything you need to get started – including the batteries, panels and wiring.