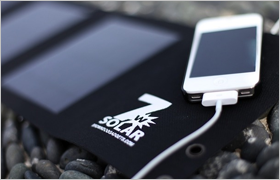 It's an easy to use, practical, every day use solar USB system. The project is also pairing up the folding solar cells with a lithium power bank to store the power for use when the sun isn't shining.
Through Kickstarter, a 5W and 7W Folding USB Solar Cell along with both a 2600mAh and a 5600mAh Power Bank will be available. Brown Dog Gadgets plan to offer a 10W Folding Solar Cell along with a 10,000mAh Power Bank after the Kickstarter is finished via their site.
The solar cells are encased in black canvas which features built in snaps and grommets, and outputs to standard USB.
It can be useful for campers, backpackers and cyclists in both urban and rural settings for powering your gadgets on the go.
Just attach it to the outside of your backpack to collect power from the sun when you are on the move. If you are backpacking, the power stored in the bank can be used at the campsite during the night. Your other camping devices like lights or GPS systems will never run out of power.
Visit the Solar Cell Kickstarter Project
Or check out the Brown Dog Gadgets website.