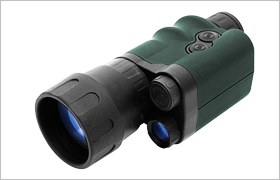 A small lightweight night vision unit can be very useful in many situations when fishing, camping, or nature watching.
The Night Trek is a lightweight Gen 1+ night vision monocular which uses image-intensifier tubes to amplify the existing light several thousand times letting you clearly see in the dark.
Gen 1+ night vision tech is still fairly popular, mainly because of the low cost. It's water and fog resistant and has a built in infrared illuminator. It's perfect for backpacking, camping, exploring and night scouting.
For more advanced night-time observations, you might want to check out a generation 2 or 3 night vision instruments and see if its worth the added cost. The price jumps considerably when moving to these advanced technologies. Check ATN's Gen 2 and 3 models.
If you want to lean more on how night vision works or about the differences in the Generations visit ATN's How Night Vision Works.
Visit ATN Night Trek for the rest of the specs or check out the ATN Night Trek on Amazon