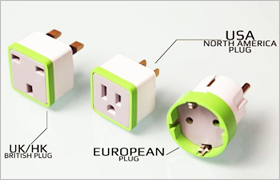 This simple device will help by telling you how much actual money an appliance is costing you when you run it, even when it's off or in standby. It will even give you the ability turn on or off any appliance connected to it.
Once the iOS or Android version of the app is installed, it will calculate your real electricity costs, depending on your location. It can display live information such as, cost last hour, last day, last week, and so on.
The app will also take into account fluctuating rates for different times of the day in your area. It has a range of about 100 feet, so you can read the information from most places inside your home and it's built in memory will record the data while you are away and as soon as you in range you can pull the info. You can use it's proximity control feature to control when to turn on an appliance or you can manually do it.
One nice feature is that you can automatically turn off the power to an appliance that is on standby, when it detects that the appliance is consuming power. The example they illustrate is if you leave your Xbox 360 or Playstation 3 on, it will continue to consume roughly 170 watts of power, 24/7. That's about $220 per year.
The worldwide database covers areas such as Canada, USA, Europe, and others but you can always enter your local cost per KW/h manually on the settings menu.
And if you are wondering what the power consumption of the MeterPlug is – it's 0.1Watts, which translates to about 1 cent per year.
Meterplug's pre-order campaign on Indiegogo was sucessful and will ship this June. We will update when we find out when it will be available again for purchase – most likely later this year. For now visit Meterplug for more details.