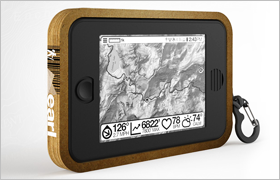 This tablet was built to take years of trail abuse. The 6" flexible E-ink touch screen is glove friendly and it's case is dust, mud, shock and waterproof and features a built in solar panel.
The Earl is a full-featured Android (4.1) tablet with 1GB ram, 16GB memory and microSD, bluetooth and wifi enabled.
If you need weather information, the Earl can measure temperature, water density of the air, air pressure, altitude and wind speed.
It's GPS chipset gives you precise reading of your location, direction and elevation and it combines GPS with it's internal magnetometer, accelerometer and gyroscope to accurately track your position in dense areas when a direct line of site cannot be acquired.
The waterproof case will protect the tablet up to 3 feet for 30 minutes and will also handle extreme temperatures between 0-50 °C. as well as altitudes up to 40,000 feet.
The built in solar panel provides up to 20 hours of battery life (3000mAh) and it will need 5 hours in direct sunlight to recharge using high efficiency 18% mono crystalline solar cells.
In an emergency situation you can quickly access Earl's two-way radio and it's 'Lunar' mode for nighttime illumination can also doubles as an emergency lantern.
It will pick up AM, FM, SW, and LW radio bands as well as the NOAA (National Oceanic and Atmospheric Administration) weather band using same technology (162 MHz).
Earl works worldwide, right now however, the maps and radio frequencies used are for North America. European and Australia/New Zealand editions will be available towards the end of 2013. Through June 9, backers can purchase Earl for $249 – a full 30 percent below the estimated retail cost.
For more details and specs, or to pre-order, visit the Earl website.