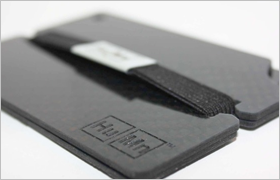 The HuMn wallet is a very thin, customizable wallet for your cash and credit or bank cards and is held together by a durable shock cord strap, and the aircraft grade aluminum plates will protect you against any card skimming.
The design of this wallet is clean and minimal – theres not much to it and thats really the point. The customization of the wallet allows you to choose either 2 or 3 plate wallets in your choice of colors for each plate, and comes the durable shock cord strap, and microfiber bag.
It will securely protect against anyone attempting to acquire your credit card and I.D. information by preventing RFID skimming. Both the aluminum and carbon fiber versions create a barrier against scanning.
If you don't want aluminum you also have the choice of 3K Twill carbon fiber for the plates. These will have two plies of expanded foil, sandwiched between the carbon fiber layers to block RFID signals. The expanded foil is also used in commercial aircrafts to shield against electro-magnetic interference, radio frequency interference, microwave, and electro-static discharge.
Check it out now at HuMn RFID blocking wallet.