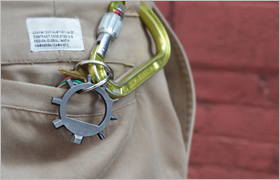 Ringtool contains nine tools and it is manufactured in the same hardened and tempered stainless steel Leatherman uses on its multitools – so you know it will be strong enough to last several lifetimes despite being virtually weightless (approx 1oz).
Ringtool is perfect for keeping on a keyring for bike adjustments, assembling furniture, adjusting snowboard bindings, opening a beer, and other miscellaneous daily needs. It's not meant to replace more serious tools but rather to be readily available in the case of emergency or spontaneous need.
Jonathan, the project creator, is an industrial designer with years of industry experience and hopes to bring this easy to use multi tool to its first production run.
Here are a list of its features:
-Bottle-cap opener
-3mm, 4mm, 5mm, 6mm, 8mm Hexhead
-Flathead Driver
-Phillips Driver
-Torxhead T25 Driver
-0.127″ (3.23 mm) Spoke wrench (DT/Wheelsmith nipples)
-0.130″ (3.30 mm) Spoke wrench (most European)
Check out the Kickstarter project page.