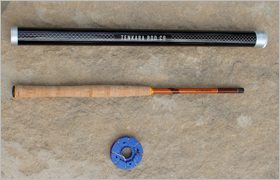 If you want to get into fishing and want something simple and effective, this new campaign on Kickstarter might be for you.

The Tenkara rod is as basic as you can get. Just attach a line to the end of your rod and there are no reels or guides. On the end of your line you have a fly – thats it.
They have two rod designs to choose from and measure about 20 inches when they are closed, and 12 feet when opened. They are ultra lightweight and compact only adding 4 ounces to your gear. They are a great way to enjoy fishing, teach your kids or include in a survival kit as a basic backup rod.
They have been designed to be extremely functional and the project creators have partnered with a rod manufacturer who has been in business for decades. High quality cork and other materials will be used in the rod making process. The line that is included with the packages is hand made in Boise by Zen outfitters.
Check out the project video below for this minimal fishing rod or head over to the project page.