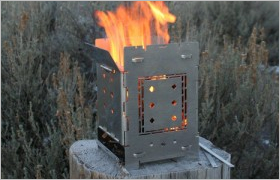 This 5″ version is a multi-fuel cook stove able to utilize wood and other bio fuels, solid fuel tablets, alcohol burners, gel fuels (Sterno), wood pellets and charcoal briquettes. It easily opens up, and when it's time to go it folds flat – so it will fit almost anywhere.
The Firebox comes with an ash pan, great if you want to leave no trace. The add-on fire sticks can be used for several things, for instance, if you need to move the stove while its burning the fire sticks hook into two slots at the top making it easy to pick up. The same two slots are also found on the ash pan if you need to slide it out as well. If you need to adapt the Firebox stove to fit a smaller pot the fire sticks will slide in at different levels depending on what you want to heat up.
There are several other great add-ons like the boiler plate that will clip on at the top creating a box and protecting the burn chamber from wind. It's size and sturdy construction makes it stable enough for a large dutch oven yet it can be used with cookware as small as a camping cup.
This folding firebox would be a great addition to any camping gear or survival kit as it's essentially a portable campfire with high versatility with any size cookware. It requires no assembly and becomes very useful if you are willing to purchase the additional add-ons they offer. Their FAQ has all the details about care instructions or spec related inquiries.
Wach the excellent video below or visit the Folding Firebox Camp Stove site.