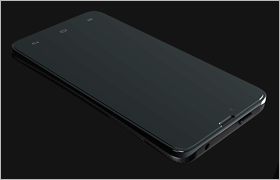 Blackphone is a joint venture between Silent Circle and smartphone startup Geeksphone and will be unlocked and able to work with any GSM carrier.
Essentially it will run on an Android based OS without any bloatware and will add in their own secure communication software – PrivatOS. It will contain all the features necessary to do everything you do now with your current smartphone, while maintaining your privacy and security and giving you the freedom to choose your carrier, apps, and location.
You will be able to make and receive secure phone calls, exchange secure texts, exchange and store secure files, have secure video chat, browse privately, and anonymize your activity through a VPN.
It's good to point out that although encryption in software is essential, it's useless unless the network as well as the the receiving phone is also secure. But the good news is that the pro-privacy tech sector is moving in this direction and there is no better time to market this type of device to the mainstream rather than just security enthusiasts.
If you are at all concerned about your mobile presence and digital footprints moving to a device like this will be essential. Pre-ordering begins at Mobile World Congress, Barcelona, Spain. February 24, 2014
The rest of the details about this phone have not yet been released so sign up for their newsletter for updates – Blackphone