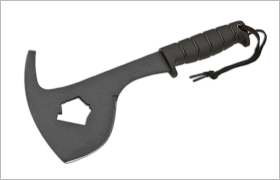 Originally adopted by U.S. Military in WWII, the SP-16 SPAX has extensive testing and use in combat and emergency situations. It's also used by fire/rescue personnel – a knife, a hatchet, or a pick axe – whatever the situation calls for.
It can be used to smash glass, deflate tires, chop through cars, rip tile, cut wood, break locks, go through doors and open manhole covers. It's special hole is sized for opening and closing fire hydrants or gas valves. It is compact and lightweight — just 13.125" overall, with 8" blades that are .250" thick and is made with hardened 1095 carbon steel. The sheath features a pivot ring and quick release buckle and Molle straps allow for pack or vest attachment.
It's a very useful tool for a wide range of applications, from emergency first responders and fire fighters to camping and hunting and a perfect addition to include in your bug out bag.
Check out the Ontario SP16 SPAX
on Amazon.