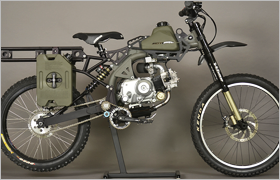 If you love DIY projects, bikes and preparing yourself for an apocalypse then you might be interested in this extremely light and versatile motorized bike outfitted with all the tools and gear you might need.
Part of any emergency preparedness is transportation. This survival bike is extremely light and uses the latest in mountain bike suspension. When the motor is on, you can either choose to pedal or not and whatever is sending the most power to the jack shaft will turn the rear wheel, so you can also help the motor by pedaling. With a stock 50cc engine, it'll go about 30mph.
It also comes stocked with survival gear including a compound crossbow, fuel storage, tactical shovel, tomahawk, light system, Gerber blade saw, harpoon, rope, mount for your GPS system, tactical knife and multi-tools.
The Black Ops Edition is listed as coming soon, so there is no word yet on a price, but the basic chassis kit goes for $1,999 and you will need to pick up your own motor (Honda XR/CRF 50/70cc or clone) as well as a few more items which are listed on their FAQ page.